MERKUR #MK030 Bakelite Men's Safety Shaving razor, Light weight short handle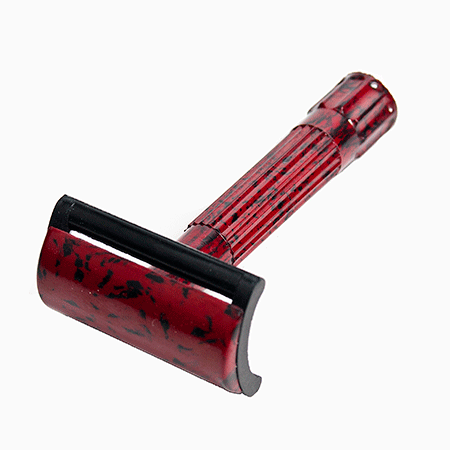 The Merkur Bakelite is a great inexpensive razor with a cool retro 1940's look.
It is made of a strong and smooth synthetic plastic and it is a very light weight razor (only 15 grams) with a short handle.
Because it is small, light and easy to take apart and reassemble, it is an excellent choice for travels.
You may think that its low weight makes it hard to control, but this is not the case.
The angle of the head and the light weight makes it easy to use and gives an amazing shave quickly, without cutting yourself.

The blade fits perfectly and is very precise. It has a medium aggressiveness that will suit most people, though if you have a thick beard or very sensitive skin the Merkur Bakelite may not be the best choice for you.
The Merkur Bakelite is a razor that is highly recommended by many shaving enthusiasts and has received a lot of great reviews.

It can be recommended for anyone that uses a safety razor or that would like to buy their first.
$23.95
AND
FREE
SHIPPING VIA USPS WITH TRACKING