BODY DRENCH  Argan Oil Emulsifying Body Dry OIl   6 oz.  Spray Bottle

Indulge your senses with this weightless body dry oil.
Infused with Moroccan Argan oil, jojoba oil and rosemary extract to restore skin's moisture and improve elasticity.
Non-greasy and quickly absorbed.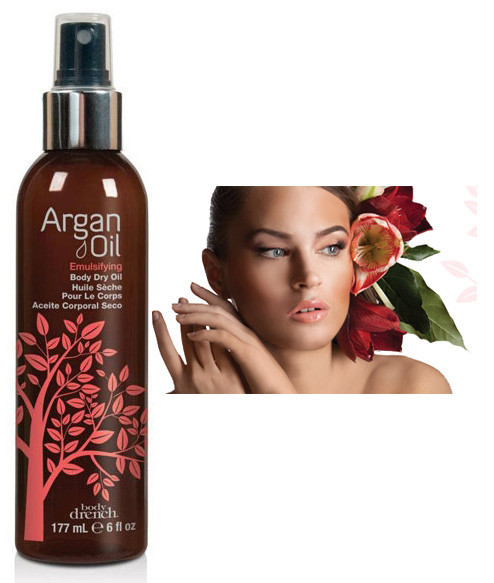 Argan Oil key ingredients and benefits:
Vitamin E: Argan Oil is astoundingly rich in Vitamin E; a potent antioxidant that significantly
hydrates the skin by restoring its natural barrier and neutralizing free radicals.
Essential Fatty Acids: Argan Oil is incredibly rich in essential fatty acids,
which have been scientifically proven to be beneficial when applied topically to skin. 
Treating sun damaged skin with Argan Oil has been shown to repair tired and distressed skin.
Carotenes: Found in Argan Oil, is a precursor to vitamin A, also known as Retinol. 
It is effective as an anti-aging ingredient by protecting the skin from sun damage, and undoing damage already done. 
It also helps even skin tone and adds a healthy glow.
Squalene.  Penetrates skin easily and is absorbed quickly, without leaving a greasy residue. 
It does not cause skin to breakout, and is effective in healing scar tissue and preventing stretch marks.