FADE OUT EXTRA CARE FADE CREAM  (NIGHTTIME) HELPS LIGHTEN PIGMENTATION MARKS
Fade Out Extra Care Fade Cream Night is specially formulated cream featuring a variety of ingredients that are designed to gently and effectively fade freckles, age spots, sunspots, marks due to contraceptive pills, liver spots and more while you sleep.
Fade-Out is not a make-up or cover cream. It is an effective treatment cream created to work with nature to fade skin spots. Making Fade Out Extra Care Cream Night part of your nightly skincare program will prevent marks from re-appearing and slow down the appearance of new spots. For best results use this night cream with Fade Out Extra Care Fade Cream during the day.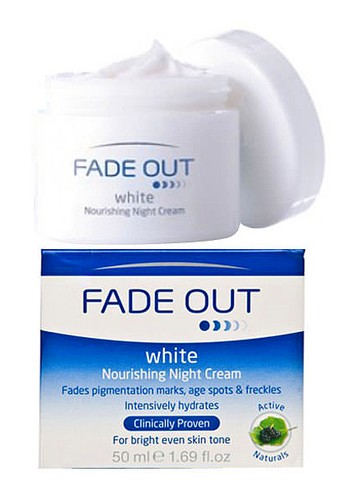 Fade-Out Cream Night penetrates the skin tissue and dissolves the pigment (melanin), a cause for the brown marks and freckles. When used regularly Fade-Out Night will allow gradual lightening of these imperfections. The new enriched Zyalight formula will create noticeable results within 4 weeks depending on skin type. Clinically proven and dermatologically tested.
Uses for Fade Out Extra Care Fade Cream Night:
Age spots & liver spots on face and hands
Freckles & sunspots
Uneven skin tone
Spots caused by oral contraceptives
Mask of pregnancy, on upper lip, cheeks or forehead
50 ML/ 1.69 OZ. JAR FOR $15.95 AND $4.99 SHIPPING VIA USPS WITH TRACKING INFO