Description:
This item is a lot of about
400 Tungsten Carbide tip
pens with aluminum body, made for marking or engraving virtually any surface.
From the paper inside; With this fantastic Tungsten-Carbide marking tool that
writes like a pencil on glass, metal, plastic, or ceramic. Write your name! draw pictures! it's the personal
way to identify your own crafts or
valuables
. Point cuts like a diamond, yet
never needs sharpening
.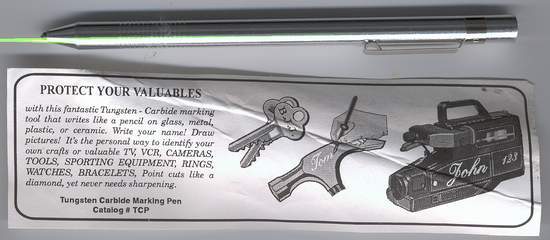 1-PEN FOR
$9.95
AND
$FREE$
SHIPPING VIA USPS