KINGSLEY PRODUCTS #SB-651  BLACK & CHROME 4-PIECE SHAVING SET,MACH III RAZOR - STAND - BOWL W/SOAP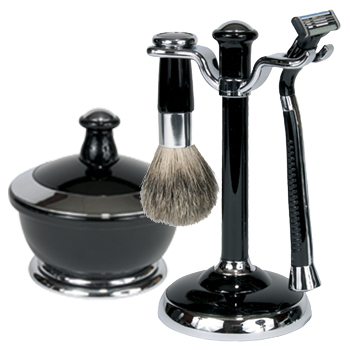 Old-Fashioned Elegance
Sleek, stylish and classically designed, this handsome set will make shaving a treat. Includes 4 detailed pieces in a sleek black and chrome combination. The dual sided stand holds a pure natural bristle brush and a razor that uses Gillette Mach 3 replacement blades. Also features a resting spot for your shave bowl . The bowl , with a handy mirror on the underside of the lid, keeps your shaving soap (included) fresh and dust-free. A quality and timeless set. Gift-boxed and ready for the man who appreciates the finer things in life.
Sterilized and vulcanized. Wash with soapy water as needed and leave to dry naturally.
This set includes:


Stand: 9.5in tall, 6.5in wide
Lidded Bowl: 4.25in diameter, 4in tall
Shaving Soap: 3in diameter
Razor: 6in tall
Natural fiber boar bristle Brush: 4.5in tall.
$42.95
AND $7.65 SHIPPING VIA USPS WITH TRACKING INFO