LUCKY TIGER  ESSENTAIL MENS 4- PIECE GROOMING KIT IN VINTAGE METAL TIN
A complete regime of full size Lucky Tiger Premium Products packaged in a vintage metal tin.
Four simple steps to the perfect shave:
1) Cleanse
2) Shave
3) After Shave
4) Moisturise
This set includes everything you need from Pre to Post shave!
Specially formulated with organic botanicals, natural emollients, vitamins and anti-oxidants.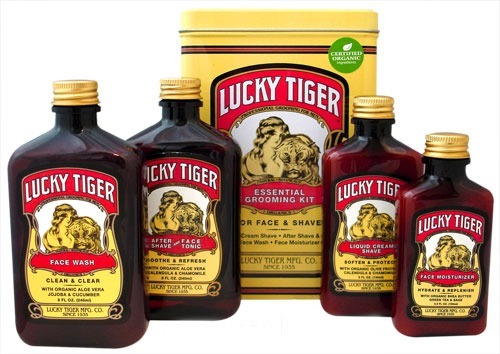 Contains 4 Standard Treatments:
*Face Wash 8oz
*Liquid Cream Shave 5oz
*After Shave and Face Tonic 8oz
*Face Moisturiser 3.5oz
The Ultimate Gift Idea!

$69.00 AND FREE SHIPPING VIA USPS WITH TRACKING INFO