SANDAHL'S LUCKY TIGER AFTER SHAVE & FACE TONIC  8 -OZ.
Nothing prepares a Lucky Tiger man for his next adventure quite like the special added touch provided by Lucky Tiger After Shave and Face Tonic. Apply this after shave after a nice, clean shave or any time of day for clean skin that looks and feels great!
This modern take on classic after shave completes the cleansing and shaving process while soothing, toning and invigorating the skin for a look that is defined, confident, and ready for anything. Perfect for all who desire the polished look of a "real man," this 8 oz. bottle of alcohol-free after shave and face tonic offers an organic approach to seriously smooth and silky skin.
Hardly overbearing yet undeniably pleasant, the citrusy orange, tangerine and grapefruit scent of Lucky Tiger After Shave and Face Tonic dissipates so that you can complement it with your regular cologne.
Lucky Tiger After Shave and Face Tonic is made from a select combination of natural botanicals, including:
Certified Organic Aloe Vera – Packed with vitamins and minerals, as well as enzymes, the Aloe Vera found in our after shave soothes and refreshes the skin. Aloe Vera also moisturizes, softens and hydrates the skin while relieving the itching and swelling of irritated skin often caused by razor burn.

Certified Organic Calendula - A popular natural herb, Calendula cools and repairs the skin while rejuvenating, softening and brightening the surface of the skin.

Certified Organic Chamomile – Calms and relieves skin irritation while replenishing and enriching dry or sensitive areas. Chamomile also brightens the skin to promote a handsome, glowing look.

Borage Oil – Clinically proven to help the skin retain moisture, borage oil penetrates the surface to promote truly hydrated and healthy skin.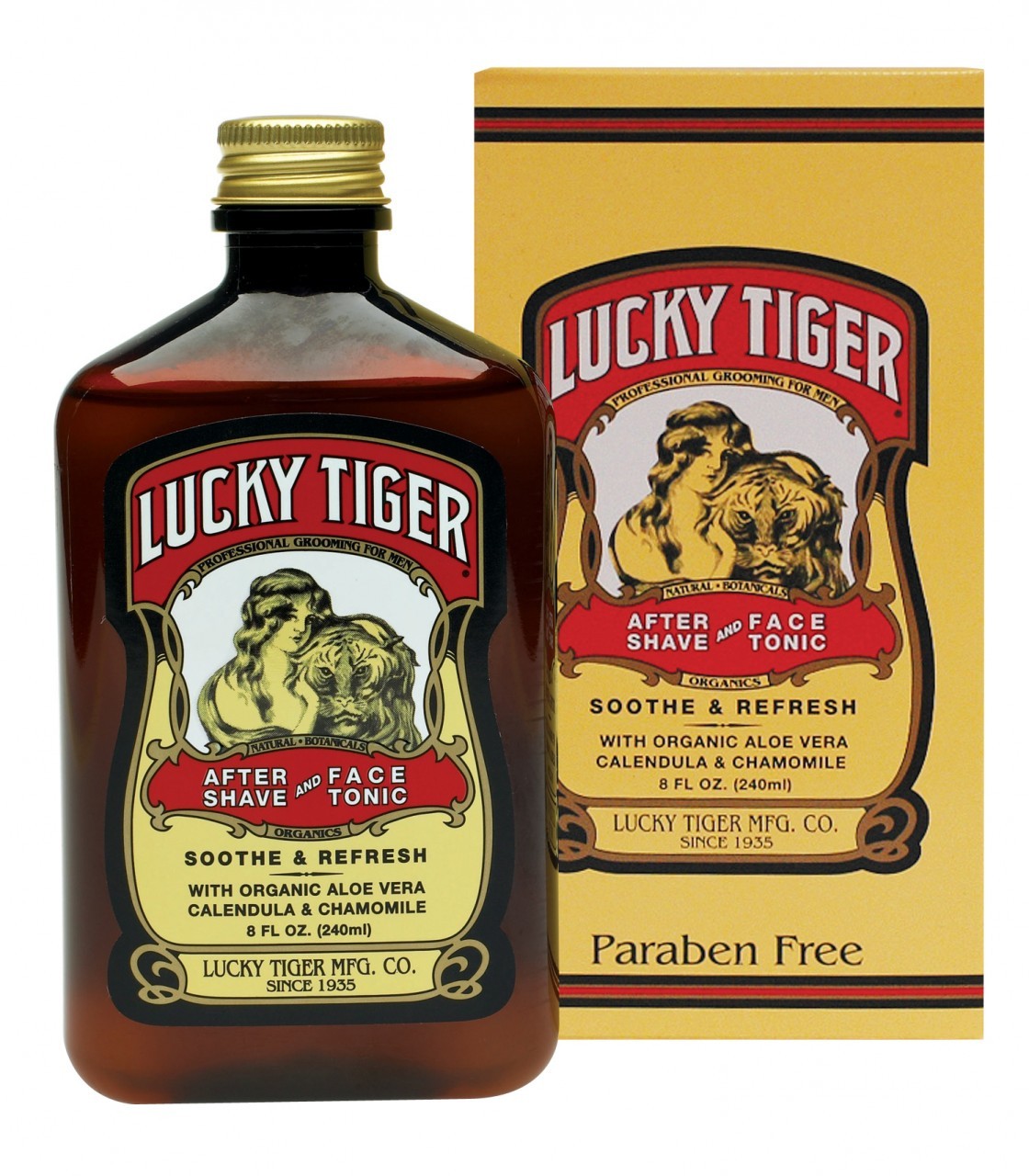 How to Use Lucky Tiger After Shave and Face Tonic
After cleansing and/or shaving, apply a liberal amount of this after shave with a cotton ball or splash directly from hands over entire face and neck, avoiding the eye area.
Order Lucky Tiger After Shave and Face Tonic now for high quality grooming that will help you look your best.  Lucky Tiger got your grandfather lucky, it got your father lucky, and it will get you lucky, too.