SUPER NAIL    ( SuperNail )   Fungi-Cide Treats Toe & Finger nail Fungus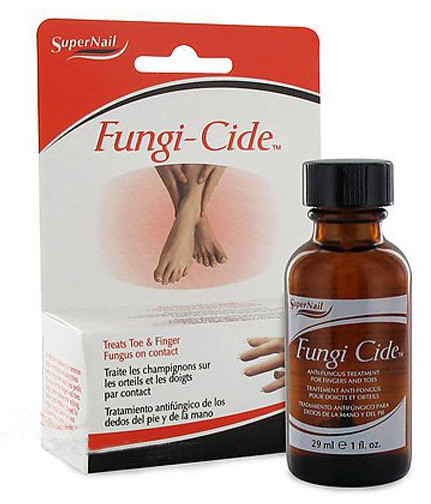 Treats toe & finger fungus on contact.
Convenient brush-on applicator.
Contains Benzocaine to relieve pain.
Contains Aloe Vera & Vitamin E for healing.
Fungi-Cide penetrate the surface quickly to destroy fungus at the site of infection. Fungi-Cide helps relieve associated burning, itching and discomforts, by eliminating the fungus and allowing healthy skin to regrow. The Tolnaftate in Fungi-Cide is widely recognized for treating fungus infections such as E. floccosum, T. mentagrophytes, and T. rubrum, which are know to cause topical infections of the body, hands and feet, on and between the fingers and toes including the skin around the nails. The Aloe Vera and Vitamin E is widely proven to help heal the skin and allow healthy skin to regorw. Benzocaine is proven to help relieve the associated pain and discomfort caused by the fungus.
  DIRECTIONS
Shake well before using. Cleanse affected area with soap and water. Dry thoroughly, apply a thin layer over affected area morning and night. Allow to dry. For athlete's foot, pay special attention to the spaces between toes.
WARNINGS
Individuals under the age 18 or persons with sensitive skin should use Fungi-Cide only as directed by a doctor. Do not use on children under the age of 12. Do not apply to open wound. If irritation persists or no noticeable improvement has occurred within 4 weeks discontinue use and consult a physician. In case of accidental ingestion, seek professional assistance or contact a poison control center immediately.
Do not take internally. Keep out of reach of children. Do not use near open flame or store near heat. Avoid contact with eyes.
INGREDIENTS
Isopropanol, N-Methylpyrrolidone, Glycol Ether, Isoparafin, Cyclomethicone, Chloroxlenol, Tolnaftate, Benzocaine, Aloe Vera, Vitamin E.
$5.79
AND $2.25 SHIPPING VIA USPS FIRST CLASS MAIL